Video | Bluebird Wine Behind the Scenes
Share Tweet
You may remember the Miracle One Wine videos I produced? Well, this same group has come out with another great wine in a ridiculously cool packaging, Bluebird Wine.
They asked me to make an introductory video which you can watch below.
They crafted this wine because they didn't see any premium wines on the market that were easy to carry. They also didn't see any wines that were easy to carry, period.
Not only that, this new packaging reduces green house gas emissions by 80% and landfill waste by 70% compared to glass! And you get two bottles of wine in one package!
When they sent me a pouch I thought they messed up, that it was only a one bottle pouch or something because it was so small. But it was actually two bottles of wine in one pouch! I was really surprised. I think glass bottles have distorted my perception of volume or something!
Now that the video is complete, I've been enjoying the wine and it's delicious. It makes me want to go enjoy the outdoors on a picnic or something just so I can carry this along! You can order the wine from their website: http://www.drinkbluebird.com/buy
I used my Canon 7D to film this against my green screen background. The Zoom H4n was used to record audio separately, because the audio that comes straight out of the 7D isn't fantastic.
One of the hardest parts was selling the fire ball. It took the most time in getting the right take and in post production. I'm no actor so it took me a while to get the right reaction, as if fire was coming out of my mouth. I watched several real fire breathers for reference on youtube. The biggest thing to sell it was the head moving back once you spit, I think.
I had trouble with the lighter on every take because I kept spitting water all in it, so it wouldn't light because it was wet! Check out the vfx breakdown, behind the scenes, and outtakes in the video below!
Here's what the fire breathing scene looks like in after effects, what I used to make all this: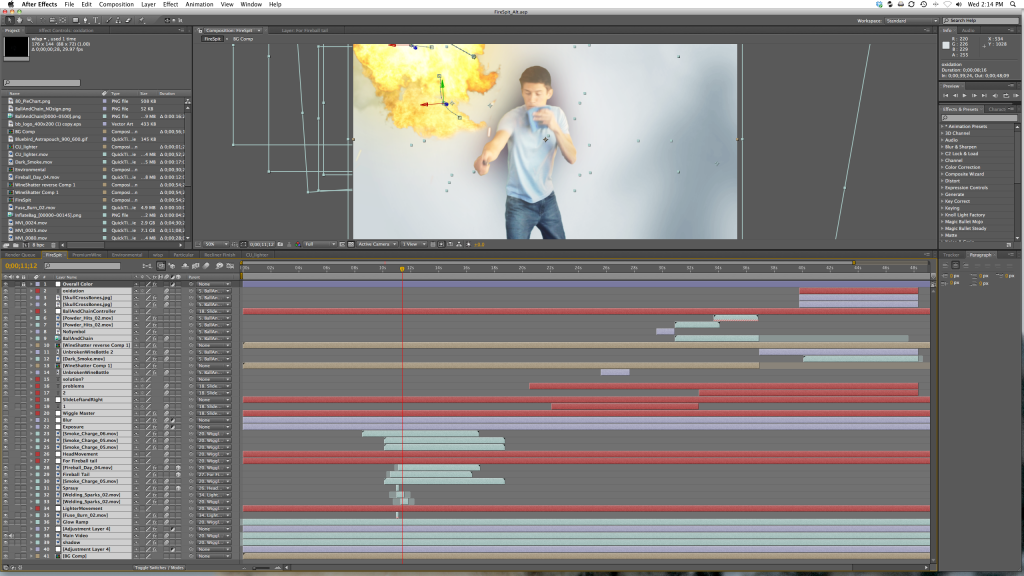 This is the green screen I used: