What is a blog if you don't share part of your personal life on it? Primarily, this site has been about showing the work I do, not necessarily talking about personal stuff. Now, nearing the one year anniversary of having lucasridley.com I thought I'd venture into the delicate world of sharing some more personal stuff on the internets.
I have recently been through a divorce, which led me to move back to my hometown of Bowling Green, KY in July. That's why I haven't posted much about hang gliding on this site since then. For several months the things that used to be fun, weren't any more, so I haven't been doing much flying. I've been hitting the reset button on life a little and trying to regroup and move forward.
Since my move home, I have created a couple more videos for Sewanee (here), filmed my first wedding, and photographed my first wedding. From this wedding work I started to get booked for several weddings around my hometown for 2011. It seemed as though I could start a business here in my hometown and start down that path, but something was pulling at me . . .
District 9 came out last year and is definitely one of my favorite movies. I liked it even more when I heard about the director, Neill Blomkamp. He is a graduate of the Vancouver Film School's (VFS) 3D Animation and Visual Effects program, which is probably a contributing factor of why that program is full a year in advance. His several short films (here and here) caught the attention of Peter Jackson (Lord of the Rings trilogy director), who went on to produce his District 9 movie.
All of Blomkamp's recent success started with his degree from VFS (near the bottom of THIS interview he mentions it). Every year, VFS graduates do amazing things in movies like Wall-E, Iron Man, Twilight, The Dark Knight and many other feature films (here and here). They also land jobs at the big visual effects houses and game developers (there's a 98% job placement rate after graduation from this program).

So, despite their 3D/Visual Effects program being full until October 2011, I gave the VFS admissions counselor a call (whom I've been in contact with over the last two years). I thought, maybe I could start their Film Production program instead, which has open seats. The idea being, I'm ready to start a new chapter in my life and if the 3D/Vfx program is full, then the Film Production program will just have to do because I'm ready for a change.
The admissions counselor proceeded to tell me that she just got out of a meeting where a student had dropped out of the upcoming 3D/Vfx program, which means a spot is open . . .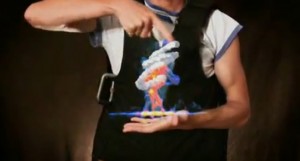 That was all I needed, I started doing all the research and budgeting. I sent them the link to my winning HP video which got me accepted into the program and a week after having the conversation with the admissions counselor I had gotten my loans in order and will be attending the 3D/Visual Effects program at VFS this January!
Right now, I'm looking for a place to live in Vancouver. I found a very generous fellow pilot to store my glider up there, so I'll be able to fly while I'm there, thanks Jim. And I've already had a warm welcome on their forum – just can't say enough good things about the hang gliding and paragliding community. Their sites look absolutely breath-taking too. Their most popular launch, Mt. Woodside, is about an 1h30m drive away from the city.
Click, drag, and release on the image for a panorama of Mt. Woodside launch [qt:http://www.westcoastsoaringclub.com/images/pan-woodside.mov 600 450] (by Stewart Trowsdale) 
Vancouver has been consistently ranked as one of the most livable cities in the world as well as having one of the highest quality of living rankings in the world (here). But for those reasons it is also one of the more expensive cities to live in. If any one has any good ramen noodle recipes, I'm all ears, because I'm going to be living as frugal as possible.
I'm not sure what this will mean for my blogging frequency when school starts, but I will try and keep it updated and definitely post if I make any cool stuff, or updates on projects I'm working on. I'm really excited about this new chapter in my life, about moving forward and learning new, exciting things I have an interest in.
I know even mentioning the fact I have been through a divorce here will meet with the disapproval of some people, and that's fine. Like many difficult times in life there seems to be a societal and cultural stigma that you should suffer in silence, and I can even understand that to some degree. I had one person tell me it was 'inappropriate' to change my relationship status on facebook from 'married' to 'single' . . . So everyone has their own standards, I thought that one was extreme though.
I know there are some other blogs that go into great detail about their divorces and how they are dealing with it daily. That is right for some people and helps them cope. I only mention it here because I feel it would be dishonest to the people who actually take the time to follow what I'm doing and read my blog, if I at least did not mention it.
My friends and family have been the absolute most important thing to me getting through this and I genuinely appreciate all of their support, and if those people are reading this, thank you.
Here's an example of a vfx test piece I made about a year ago that is created using a motion matching program that determines the physical camera position based on the parallax of the scene, and recreates the cameras 3-dimensional movements in software. With that camera position data you can place a 3D model within that live-action footage and it will appear as though it lives in that scene. I created the floating orb for this test and put it in the footage. This is a small scale version of how visual effects in movies are made:
PS – Next week, one year will have passed since I started lucasridley.com, so I'll be posting some statistics about how many visitors I've had over the last year.